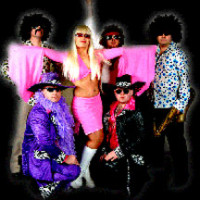 CARWASH are the sensational 70's disco experience.
More than just a band, CARWASH authentically capture the sounds and style of the era. Their non-stop live show generates a great atmosphere that is always lively, fun and very entertaining.
Each song is an absolute dance floor smash hit, which means you are guaranteed to hear your all time favourite disco tracks, all night long.
Every aspect of CARWASH's live show has been designed to recreate the energy and excitement of this magical time in music. Featuring some of the widest flares, biggest Afro's and the slickest dance steps to be seen since the days of Soul Train.
So if you love to "CELEBRATE" with KOOL & THE GANG, "FEEL GOOD" with JAMES BROWN or even do "LE FREAK" with CHIC, then CARWASH are the number 1 choice.
Introducing the band:
Drums: Leroy
Electronic Keyboard: Johnny T
Bass Guitar and Vocal: Big Jay
Male Lead Vocal and Guitar: Sir Astro
Female Lead Vocal: Sugar B
70s
,
disco
,
pop
,
Rock
,
Seventies
,
soul